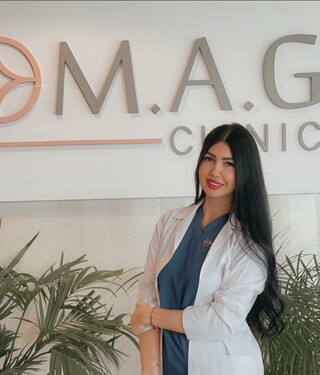 13+ years of experience as physiotherapist in hospitals and private clinics.
Some of Hanae's specialities:
Sports and musculoskeletal physiotherapy,
Women's health,
Shoulder injuries and rehabilitation,
Fitness training
Posture screening and correction
TMJ disorder
Lymphatic drainage.
Languages spoken:
Arabic, English, French.
Hanae earned her Bachelor of Science (BSc) in Physiotherapy at Fez Morocco in 2009. She worked with a local football team in Morocco for a year before coming to Dubai in 2010.
Hanae has over 13 years' experience in treating a range of musculoskeletal injuries, from office related conditions to sports specific injuries.
Her endeavor to provide patients with specific care led her to continuously further her education and strengthen her skills in patient assessment and treatment.
Hanae has successfully completed a rigorous post professional training and examination program and became:
Posture analysis specialist
pre and post-natal exercises specialist
Fitness trainer
GOLF Fitness Therapist/ Instructor
Mat Pilates instructor
Cupping therapy specialist
Dry needling practitioner
Shape magazine in Dubai voted Hanae as one of the best 5 sport massages practitioners in their August 2011 issue.

Her usual treatment strategies involve Manual therapy, dry needling, traction, cupping, kinesiotaping, shockwave therapy and electrotherapy. Incorporate with proprioceptive and strengthening exercises.

"I take a holistic approach to my Rehabilitation and address not only the injury but the causal factors to avoid Re-injury in a long term", Hanae Loufi
INSPIRATION:
"The best physiotherapists are like detectives, the answers are there if you know how to listen, observe and feel. I have been told that there are three keys to professional success, love what you do, get rewarded for it, and make a difference in someone's life. Physiotherapy checks all the boxes for me", Hanae Loufi