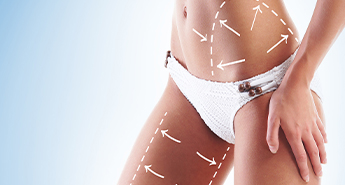 Liposuction is a surgical procedure to reshape the body by removing unwanted fat. The two suction techniques are either a liposuction machine, of which there are many models, or syringe liposculpture which is the best technique when fat injection is included in the reshaping procedure. The areas most commonly treated are the hips, saddle bags, the tummy, the back and some areas of the face.
This is usually a hospital procedure performed under either local anesthesia with sedation or general anesthesia. Blood tests will be mandatory along with a consultation with the anesthesiologist.
All of the patients' concerns with the surgery will be clarified before surgery with the doctor.
Surgery time
Depends on how many areas to be treated. Could be between 1 to 4 hours. A post surgery girdle will need to be worn for 3 to 4 weeks. There will be some swelling that the girdle will help to contain and perhaps a little bruising. There will be a few stitches to be removed from the various incision points. Some discomfort for a few days after the surgery will be felt and again painkillers and a course of antibiotics will be prescribed.
Recovery time
It will take one month for 80% of the swelling to subside, after the first week the patient will be more comfortable. The final result is after six months. Driving will be permitted after two weeks, a return to the gym after 4 weeks with walks every day increasing in length over time. It is important to keep moving.
Possible side effects after Liposuction
Most commonly are some bruising and swelling. Numbness, or sometimes, slight inflammation in some operated areas usually subsiding with time. The scars are 2 to 5 mm long where an incision has been made for the liposuction cannula; there can be a leakage of the anesthetic fluid from these points.
Are the results permanent?
The fat cells that are removed do not grow back. However overeating will of course result in weight gain as there are still many, many fat cells left in the body that will react to an excessive intake of food. It is advised to stick to a healthy diet with regular exercise to help maintain the new shape.
Am I a candidate for a Liposuction procedure
Please call the MAG clinic Plastic Surgery Department to book a consultation with Dr Toledo for an evaluation. He will be able to advise you on the best solution for your aesthetic concerns. This will be based on what you wish to achieve considering your age, height, weight, lifestyle and recovery time available.