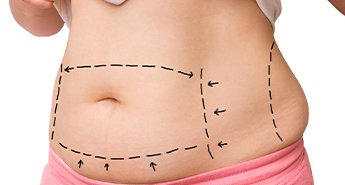 A Tummy tuck or an Abdominoplasty is a surgical procedure to diminish and beautify the abdominal area.
This surgery involves the removal of fat and excess skin, and sometimes requires muscle repair.


Which Tummy Tuck type am I suitable for?
A mini tummy tuck type is for, usually a younger patient, with a small amount of excess of skin, often performed together with liposuction to remove the unwanted fat. This results in a short scar in more or less the same region as a cesarean section scar.
A traditional Abdominoplasty type is the solution for a big reduction where fat and skin are to be removed and where very often the abdominal muscle needs to be stitched back together. These two muscles can separate during pregnancy or weight gain, resulting in a flaccid, extended abdomen, the repair of which results in a firm flat tummy.
This surgery has a hip to hip scar, the placement of which you will discuss with the Dr. The tummy button will need to be repositioned resulting in a scar around it.
Both men and women are candidates for this surgery.
Pregnancy after a tummy tuck is possible, and women have been able to have a safe pregnancy to full term. It is advisable however, as a caution, to look for this procedure once the child bearing years have passed.
Blood tests will be required and a consultation with the anesthesiologist.
No driving or visits to the gym for four weeks.

The surgery
The length of time will again depend on the amount of tissue to be treated and removed, the average time is 3-4 hours under general anesthesia.
One or two nights in the hospital will be necessary for the patients' comfort in the immediate post operation days.
A girdle will be worn for three to four weeks post operation.
Antibiotics and painkillers will be prescribed. No baths allowed as it is imperative that the fresh scar be kept dry.
Stitches start being removed from the 7th day.
Possible post op concerns
Fluid accumulation under the skin called a seroma, which can be suctioned out. It is important to attend all your post operation visits to change the dressings, keeping the scar clean and to make sure that the healing is going as planned.
Poor healing of the wounds, often a small scar revision is possible after the healing process is finished, usually at six months.
Scarring will be permanent, often becoming almost invisible as time goes by.
Tissue necrosis, no smoking is allowed three months before the surgery and during the healing process. Smoking increases the risk of tissue necrosis.
There might be some numbness post op that will fade with time.
Recovery time
It depends on the surgery. One month 80% of the swelling will subside and as it is a big surgery the patient must make sure to stick to the post operation do's and don'ts.
Full recovery of the surgery will be in around six months.

Please call MAG Clinic Plastic Surgery department to book a time with Dr Toledo. He will explain the surgery that he will tailor make to meet your needs.