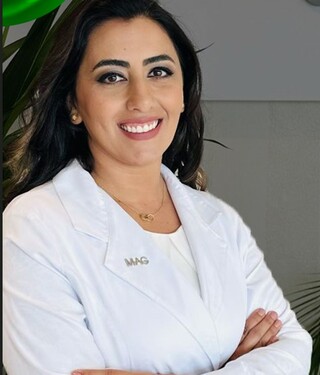 Dr. Kamila Issa has a comprehensive skill set and experience in various aspects of dentistry. Her qualifications and memberships reflect her commitment to staying updated with the latest practices in the field.

Education:
Bachelor's degree in Dentistry from Universidade Estadual de Londrina, Brazil in 2011.
Master's degree in Prosthodontics from Universidade Positivo, Brazil in 2020.
Master's degree in Implant Dentistry from Faculdade Herrero, Brazil in 2020.
Memberships:
Member of the Brazilian Federal Council of Dentistry.
Member of the Lebanese Dental Association.
Areas of Expertise:
Preventive and restorative dentistry, including scaling, restorations, inlays, and onlays.
Cosmetic dentistry, such as porcelain veneers, composite veneers, and bleaching.
Resolving complicated oral rehabilitations.
Applying updated concepts for adhesion to promote conservative dentistry.
Utilizing Sirona CAD-CAM technology for oral scanning and fabricating crowns and endo-crowns.
Extraction of impacted third molars.
Periodontal treatments.
Oral surgery, including biopsies, extractions, and managing emergencies.
Successful management of pediatric patients.
Languages Spoken:
English
Portuguese
Arabic
Spanish