Temporomandibular joint (TMJ) disorder refers to a condition that affects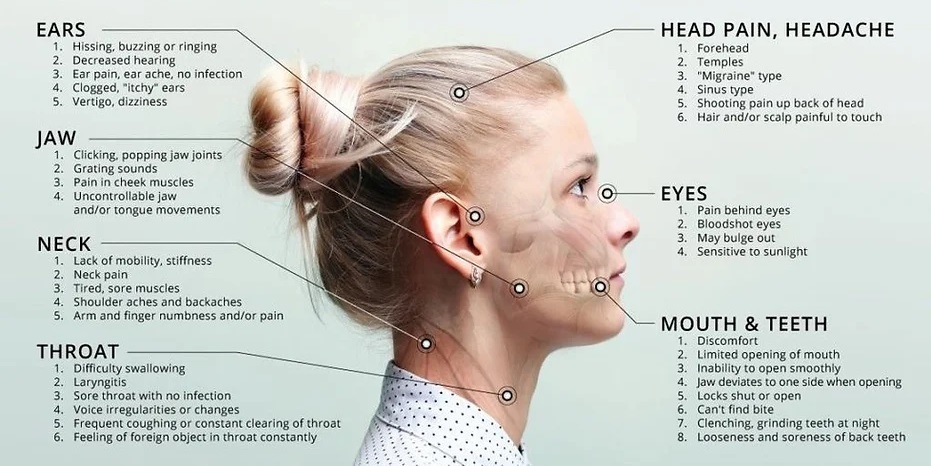 the jaw joint and the muscles involved in jaw movement. The symptoms of TMJ disorder can vary widely and may include:
Pain or Discomfort: Persistent pain in the jaw joint, which may be localized to one or both sides of the face. This discomfort may extend to the ear, neck, or shoulders.
Jaw Stiffness: Difficulty or discomfort when opening or closing the mouth, accompanied by a sensation of tightness or stiffness in the jaw.
Clicking or Popping Sounds: Audible sounds, such as clicking, popping, or grating, when moving the jaw. These noises may be felt or heard by the individual and may or may not be accompanied by pain.
Limited Jaw Movement: Difficulty in fully opening the mouth or experiencing restrictions in jaw movement.
Locking of the Jaw: In severe cases, the jaw may lock in an open or closed position, leading to difficulty in normal jaw function.
Muscle Tenderness: Tenderness or discomfort in the muscles around the jaw, face, and neck.
Headaches: TMJ disorders can contribute to headaches, especially those originating from tension or muscle strain in the jaw area.
Ear Pain or Fullness: Pain or a feeling of fullness in the ears, often accompanied by ringing (tinnitus) or a sensation of pressure.
Changes in Bite: Changes in the way the upper and lower teeth fit together, commonly referred to as malocclusion.
It's important to note that TMJ symptoms can be temporary or chronic, and their severity can vary. If you experience persistent or worsening symptoms related to your jaw joint, it's advisable to seek evaluation and guidance from a healthcare professional, such as a dentist, oral and maxillofacial surgeon, or a specialist in TMJ disorders. They can assess your specific situation and recommend appropriate treatment options based on the underlying causes of your symptoms.

At MAG Clinic, we are proud to offer a holistic TMJ (Temporomandibular Joint) treatment approach that integrates the expertise of a multi-disciplinary team. Our team comprises skilled professionals, including dentists, maxillofacial surgeons, orthodontists, orthopedic specialists, chiropractors, and physiotherapists. This collaborative and comprehensive approach ensures that we address TMJ-related issues with a thorough and tailored treatment plan.
Our Holistic TMJ Treatment Approach Includes:
Dental Evaluation: Our experienced dentists assess the dental aspects of TMJ disorders, examining the bite, alignment, and any dental issues contributing to TMJ symptoms.
Maxillofacial Surgeons: Specialized maxillofacial surgeons are involved in addressing structural or anatomical issues in the jaw joint, providing surgical interventions when necessary.
Orthodontics: Orthodontists play a key role in aligning the teeth and jaws to alleviate TMJ symptoms and improve overall oral function.
Orthopedics: Collaborating with orthopedic specialists allows us to address musculoskeletal aspects of TMJ disorders, considering the holistic function of the jaw joint and surrounding structures.
Chiropractors: Chiropractic care can contribute to the overall well-being of TMJ patients by focusing on alignment and mobility of the spine and neck, which can impact jaw function.
Physiotherapists: Physiotherapy is employed to enhance muscle function, reduce pain, and improve joint mobility, promoting a holistic approach to TMJ treatment.
TMJ Integrated Team in Dubai

Our integrated team approach ensures that each patient receives personalized care, combining the expertise of different disciplines to address the various facets of TMJ disorders. By leveraging the skills of our diverse team, we aim to provide effective and comprehensive solutions to enhance the overall quality of life for individuals experiencing TMJ-related challenges.