Nitrous Oxide (Happy Gas):
Commonly known as "happy gas," nitrous oxide is a widely utilized form of sedation dentistry offered at our clinic. This extremely light conscious sedation induces a state of relaxation while allowing you to remain fully aware of your surroundings. Referred to as "laughing gas," nitrous oxide is fast-acting and swiftly reversible. After the procedure, there is no lingering drowsiness, enabling you to resume your normal routine promptly.
Pediatric Dentistry Under General Anesthesia: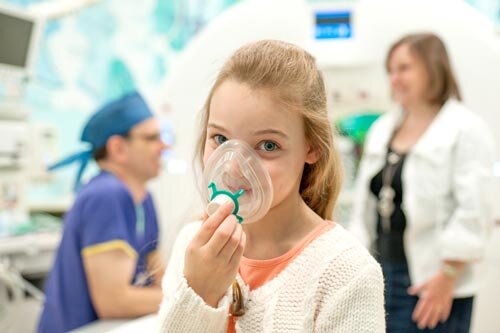 In certain cases, children may require essential dental care that exceeds what can be comfortably managed without sedation. If nitrous oxide proves insufficient, our Pediatric Specialists can administer treatment under General Anesthesia. This is conducted under the supervision of an Anesthesiologist in a hospital setting in Dubai. Our clinic has established partnerships with reputable hospitals to facilitate this service. Pediatric sedation dentistry ensures that your child can receive necessary care in a painless, anxiety-free environment, fostering a positive dental experience.