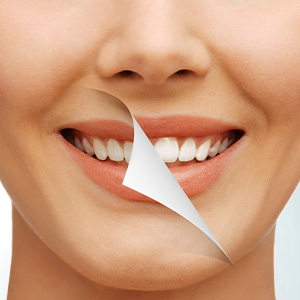 If you are looking for a brighter smile and are eager to get the color of your teeth that you have always dreamed of, the Mag Clinic has the best solution.
We offer teeth whitening by bleaching your teeth to make them brighter; through this procedure, we can lighten your current teeth color by several shades.
You can check with your dentist to examine your teeth and tell you if the teeth whitening is appropriate for you and he can give you all information you need about teeth whitening.
How long the results of teeth whitening procedure will last?
People who took care of their teeth after teeth whitening process, clean their teeth on regular basis and avoid some foods and beverage that change the color of their teeth, will enjoy their white teeth for about 1 year before they need another whitening treatment.
What are the used teeth whitening methods?
There are two common methods of teeth whitening as follow:
First method:
Zoom teeth whitening or laser teeth whitening in the clinic. This is done by coating the teeth with the bleaching gel, and then the light or laser is directed to the teeth to activate the bleaching substance. This process usually takes an hour.
Second method
Your dentist will take an impression of your teeth and send them to the laboratory to make your teeth whitening molds. Then you apply the teeth bleaching gel regularly into your mold according to your dentist's instructions. This usually takes about two to four weeks at a rate of four hours a day.
Will teeth whitening work on artificial dental implants?
We cannot apply teeth whitening on crowns, dentures filling or veneers.
What are the risks of teeth whitening process?
You may face two side effects and they are temporary, the increase of tooth sensitivity and irritation of the soft tissues of the gum. Both of them are temporary and will disappear within 1-3 days after completing the treatment.
Schedule your visit to our clinic now by filling up the form on this link: https://www.magclinic.ae/appointment/ in order to have all your question answered by our professional dentists.