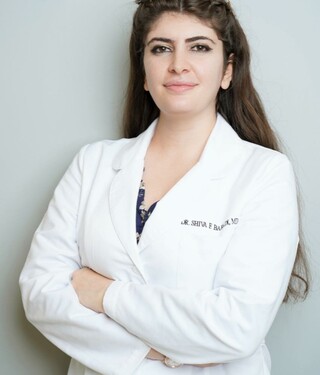 Dr Shiva has 5 years experience in General Medicine & Aesthetic procedures in the UAE and Iran. She is an MD (Medicine Doctorate) degree holder in Medicine & Surgery from Shahid Sadoughi University of Medical Science in Iran in addition to Aesthetic Certificate licence from UAE.
Specialities
Dr. Shiva has a wealth of experience and expertise in the following Aesthetic procedures & General Medicine:
Aesthetic Medicine:
Derma Fillers injections across all major brands (including: Restylane, Juvederm, Perfectha, Teosyal, Radiesse, Ellanse etc) for lips, scars, nose, under eye area, chin and cheeks;
Botox – Full face, axillary, migraine, gummy smile, masseter & more;
Excessive sweating treatment – hands, feet, and axillary;
Face Rejuvenation treatments and procedures (including: Jalupro , Profhilo, fractional laser, radiofrequency micro needling, growth factor treatment);
Removal of skin lesions such as skintags and warts;
Platelet Rich Plasma (PRP) Therapy;
Stem Cell Therapy for skin as well as hair loss;
Mesotherapy;
All Hair Loss therapies.
General Medicine:
Minor injuries;
General Health advice;
Prescriptions for medicines;
Ongoing care for chronic conditions;
Health screenings for diseases such as diabetes, thyroid disorders and blood pressure checks;
Vaccinations;
Care during pregnancy;
Care for children;
Emotional help and support.