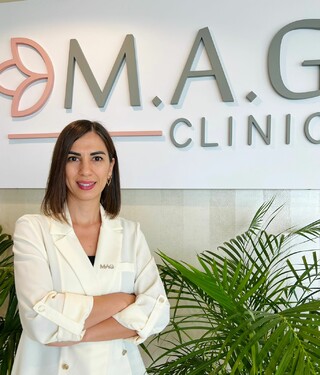 Dr. Irem Gokdemir is an Obstetrics and Gynecology specialist in MAG Clinic.
She earned her MBBS degree from UFUK University, Ankara, Turkey and then obtained her MD from Zekai Tahir Burak Women's Health Education and Research hospital also in Ankara, Turkey.
Dr. Irem completed a Fellowship in Minimal Access Surgery in Dubai (FMAS) and Fellowship in Cosmetic Gynecology with International Association of Cosmetic Gynecology in Dubai.
Dr. Irem is a member of the Turkish Society of Obstetrician and Gynecologist as well as World Association of Laparoscopic Surgeons.


Some of what Dr Irem covers:
Pregnancy care
Cesarean and normal deliveries
Gynecology procedures
Preconception care
Cosmetic gynecology, for example, laser rejuvenation
Irregular menstruation
Abnormal uterine bleeding
Womens' health care education
Postnatal care
Cervical cancer screening and HPV test
HPV vaccination
Colposcopy
Pelvic pain
Dr Irem speaks: