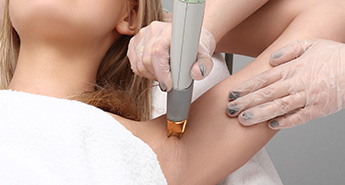 Laser hair removal is medical procedure in which concentrated beam of laser directed to the hair follicle to destroy it.
In case you are tired of shaving, waxing while you are removing the unwanted hair so you are going to consider laser hair removal worthy solution for you.
What are the benefits of Laser Hair Removal?
The procedure of laser hair removal is very useful to remove unwanted hair from face, leg, arm, under arm, bikini area and other body area, this process has follow benefits:
Precision: specialist can select the targeted hair without damaging the skin
Speed: each pulse can affect more than one hair and do not take more than second
Predictability: patient can reach the result of permanent hair loss in 7-10 sessions of laser hair removal
How often the patient need to get laser hair removal?
It depends on your hair type and skin type and which area being treated, the treatment will usually take 4-6 weeks. In addition, as each different area of the body has its hair cycle so to get the permanent hair loss of any area depending on what phase your follicles are in the time of treatment. In general we can say about 10 sessions are required to get the final result.
Does the procedure of laser hair removal hurts?
As each pulse lasts only for less than a second so it is only produce a slight tingling feeling. So we can say that the procedure of laser hair removal Dubai is painless compared to other hair removal methods like waxing.
Risks and recovery?
After day or two after the procedure, the treated area will look and feel like it's sunburned. You can apply moisturizers and cool compresses. In case the face is treated, you can apply makeup the next day.
What things I shall prepare before laser hair removal?
You have to make sure of follow things:
Not to use waxing, tweezing or bleaching to the targeted area 1 month prior.
Do not apply any kind of tan to the targeted area.
Don't expose the targeted area to sun 2-4 weeks prior.
No dermal peel to the targeted area 1 week prior.
How do I care for treated area after the procedure?
You may face some swelling and redness and may last for about 48 hours.
Soothing gel, 2 time per day for 3 days after the procedure.
Skin cleaner, to clean the treated area 3 days after the procedure.
Face and body scrub 2 times daily for a week.
SPF on all treated area.
Avoiding excessive physical activities.
M.A.G clinic using the latest advanced and safe laser hair removal Dubai to get you the perfect results and to get rid of the unwanted hair forever.
All what you have to do is to call us and check for our latest offers and best prices and schedule your appointment.